"Crowds stretched back at least 20 blocks from Federal Plaza at one point. The procession was so long that some marchers still hadn't made it to the plaza when the two-hour rally ended."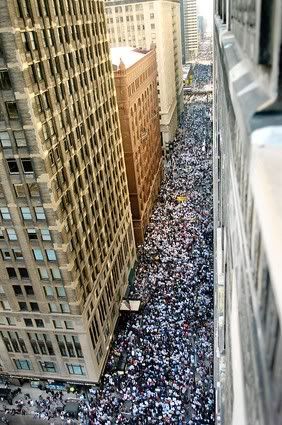 Unless you live in the Chicago area you probably are unaware that a rally of this size even took place yesterday. Hundreds of thousands immigrants, activists, clergy and politicians marched in protest of "The Border Protection, Antiterrorism, and Illegal Immigration Control Act of 2005 – HR 4437.

(more below the fold)
Tag: immigration

From the local CBS affiliate in Chicago comes this:



CHICAGO Crowds marched through the city on Friday to rally against HR 4437 – The Border Protection, Antiterrorism, and Illegal Immigration Control Act of 2005.

Supporters of the bill before Congress say it beefs up border protection. But thousands of people in Chicago's Latino community call the pending bill a blatant violation of rights.

As CBS 2 Chief Correspondent Jay Levine reports, the protesters -- of Polish, Irish, Latino, Chinese and many other nationalities -- gathered at Union Park, at Ashland Avenue and Lake Street, and marched to the Loop. From the air, it appeared to be an endless sea of demonstrators, flooding the streets to protest the recently-passed house bill, which would make it a crime to hire or even help undocumented immigrants.

At the end of the day, organizers say it was more than half a million protesters. Police estimated the crowd at 300,000.

-snip-

Many of the protesters were immigrants who took the day off work to attend the rally.

"This is a ridiculous bill," said Polish immigrant Paulina Cdnok. "I don't understand how it got as far as it did, and they're trying to make this a law -- and then at this point it's a police state."

Other immigrants said their most important goal was to be part of the United States.

"It's important that they know that we make great contributions to this country," Chicago resident Maricela Herrera said. "We're not here to take any jobs or anything, we're here to be able to give our contributions that make the United States what it is."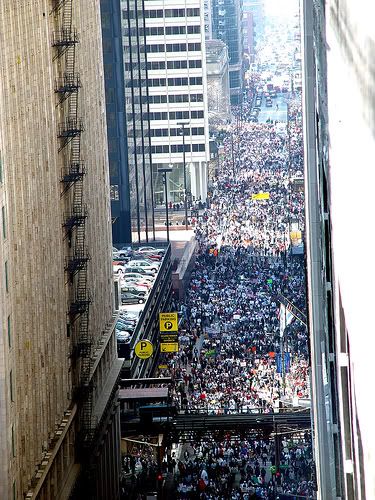 But for those in the rest of the country, the news of this huge rally looked more like this two sentence report from the Washington Post:



NATION IN BRIEF

CHICAGO -- Tens of thousands of Mexican and other immigrants held a large rally in Chicago on Friday to protest proposed changes to immigration laws. Chicago police said 75,000 to 100,000 people were involved in the march and rally.


Many other papers ran the AP story entitled: "100,000 march in favor of immigrant rights" which went a little further in depth - but like the New York Times did not feature it prominently, choosing to bury the story in the back of the paper. The AP story also made sure to mention remarks made by a small contingent of the local Illinois Minutemen group in opposition to the march. Just for "balance" I guess.

But it's hard to counter something like this with the usual anti-immigrant rhetoric: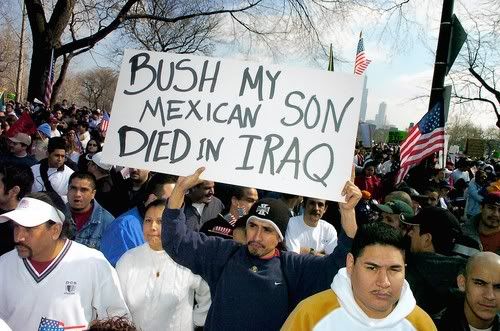 Perhaps the media needs to start looking beyond the inflammatory, xenophobic and sensational, and start to deal with this issue in a responsible way. This won't be the last time thousands take to the streets … and they can't be ignored forever.






ACTION ITEMS:

Contact your Senator
Contact the Media
Contact the Senate Judiciary Committee

American Immigration Lawyers Association

Justice for Immigrants The Catholic Campaign for Immigration Reform

National Immigration Forum

National Council of La Raza


MORE ON HR4437 FROM MIGRA MATTERS

The fly in Mr. Sensenbrenners ointment

King claims HR4437 not to punish humanitarians: I say prove it

HR 4437: King promised changes, but none made

Unions, Catholic Church and US Chamber of Commerce oppose HR4437

Congressmen with least immigrants in districts support HR4437… those with most oppose it

Cardinal calls for civil disobedience against HR4437


Sensenbrenner's State relies on undocumented workers to keep farm economy running

US Begins Internment of Undocumented Immigrants


INFORMATION ON HR 4437

Major Provisions of HR 4437

Library of Congress:H.R.4437

Voting record on HR 4437

White House letter of support for HR 4437

ACLU on HR4437

NCLR on HR4437

Human Rights First on HR4437