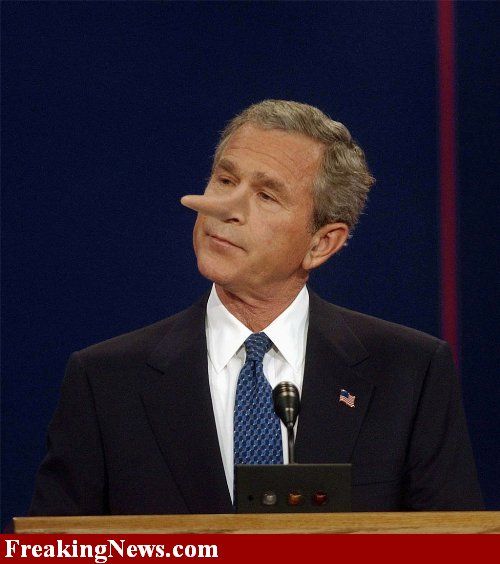 Despite all the evidence to the contrary, President Bush on Saturday, during his weekly radio address, tried to blame the breakdown of the Senate compromise on immigration reform on the Democrats and their Minority Leader, Harry Reid (D-NV).



Bush blames Democrats for stalled immigration reform

By Matt Spetalnick
Reuters
Saturday, April 8, 2006; 10:26 AM

WASHINGTON (Reuters) - President Bush, trying to head off the latest in a string of setbacks, blamed Democratic "blocking tactics" on Saturday for stalling an immigration overhaul and urged an end to the impasse.

Bush used his weekly radio address to point the finger at Senate Democratic leader Harry Reid for the breakdown on Friday of a Senate compromise plan to reform immigration law and give millions of illegal immigrants a chance for citizenship.

Failure to push through the bill, which would create a temporary worker program as proposed by Bush, could derail major changes in immigration laws for this year, dealing another blow to a president beset by his lowest public approval ratings since taking office.

Gridlock over the legislation, which would be the biggest immigration overhaul in two decades, touched off recriminations.

"Unfortunately, this compromise is being blocked by the Senate Democratic leader who has refused to allow senators to move forward and vote on amendments to this bill," Bush said.

"I call on the Senate Minority Leader to end his blocking tactics and allow the Senate to do its work and pass a fair, effective immigration reform bill," he added.

-snip-

The immigration debate has been complicated by November's congressional elections in which Democrats are threatening to seize control of both houses from Bush's Republican Party.

Republicans are split. The party is nervous about losing Hispanic votes and some members back Bush's call for both tighter border controls and a guest-worker program.

But many conservatives worry that allowing millions of undocumented, mostly Mexican immigrants to qualify for residency would lead to charges in the coming congressional campaign of having voted for amnesty.


Washington Post

As anyone who has been following this debate knows, the inability of the Senate to pass a comprehensive immigration reform bill is a direct result of the infighting within the Republican party. Since the Judiciary Committee passed it's compromise bill almost two weeks ago, Majority Leader Bill Frist(R-TN) with the help of Senators Cornyn( R-TX), Kyle (R-Az) , Martinez (R-Fla), Sessions (R-AL) and many more have consistently moved to prevent the it from ever seeing the light of day. Frist put up his own bill for consideration ahead of the Judiciaries bill, than over 400 amendments were proposed to modify the bill, in effect rewriting it almost entirely on the floor of the Senate.
(more below the fold)
tags:
immigration
,
Comprehensive Immigration Reform Act of 2006
,
Frist bill
,
Securing America's Borders Act
,
S. 2454


It is no secret that many Republicans within the Senate oppose any measure that would give a path to legalization to the estimated 12 million undocumented immigrants in the U.S. Those Republicans who are favorable to compressive reform are still unwilling to fully commit to the proposal and welcome the breakdown of negotiations as a chance to spend the two-week Easter Recess feeling out the political climate of their constituents.

The greatest obstacle to comprehensive reform, a Republican House dead set against any measure that allows the undocumented to stay, seems to have totally slipped Mr. Bush's mind when he was casting blame.




Key House Republican vows to oppose immigration measure

WASHINGTON — Senators from both parties say they'll put parliamentary snags and political spats behind them to get a bipartisan immigration bill back on track later this month. But even if they succeed, the measure faces an implacable foe determined to keep it from becoming law.

House Judiciary Committee Chairman James Sensenbrenner, R-Wisc., told USA TODAY in an interview Friday that the Senate measure, which won support from Republican and Democratic leaders as well as President Bush, is unacceptable to him because it would grant millions of people who came here illegally a chance at citizenship.

"However it is spun, it is an amnesty," Sensenbrenner said. "It rewards somebody who has broken the law with a benefit that is very hard to achieve for those who obey the law."

Sensenbrenner, 62, (6/14/43) will play a key role in any immigration legislation that is enacted. As chairman of a panel that oversees immigration and border security, he will be the top-ranking House negotiator assiged to hammer out any differences between House and Senate bills.

His immigration and border security proposal, approved by the House in December, aims at beefing up border security and enforcement of existing immigration laws. It does not contain provisions permitting more foreign workers into the USA or provide for those now working here illegally to obtain citizenship

USA TODAY


Mr Bush can try as he may to spin this issue to the American people, but like so many of the recent problems in Washington from Abramoff to DeLay, the leaking of CIA agents identities to authorizing illegal wiretaps this is a problem that is mostly confined to, and caused by, the Republican Party - and all the spin in the world won't change that fact.