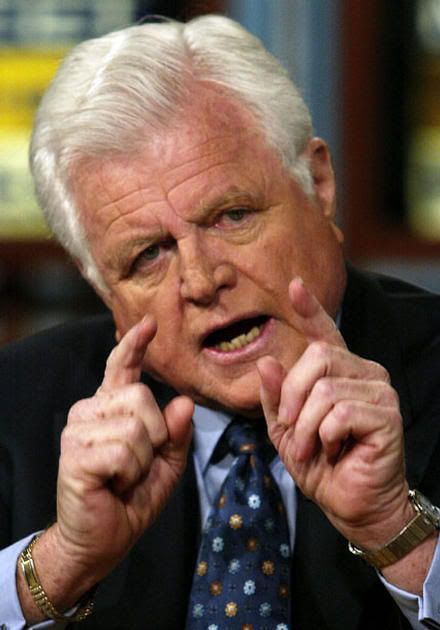 FIRM, a national coalition of grassroots organizations fighting for immigrant rights, is reporting that Senator Edward Kennedy will announce tomorrow that a compromise has been reached with the White House regarding comprehensive immigration reform.

A press conference will be held with Senators at noon Thursday.

Details of the final compromise have not yet been disclosed, but various news reports have disclosed some of the particulars that are known so far.


Under the tentative deal, undocumented workers who crossed into the country before Jan. 1 would be offered a temporary-residency permit while they await a new "Z Visa" that would allow them to live and work lawfully here. The head of an illegal-immigrant household would have eight years to return to his or her home country to apply for permanent legal residence for members of the household, but each Z Visa itself would be renewable indefinitely, as long as the holder passes a criminal background check, remains fully employed and pays a $5,000 fine, plus a paperwork-processing fee.

A separate, temporary-worker program would be established for 400,000 migrants a year. Each temporary work visa would be good for two years and could be renewed up to three times, as long as the worker leaves the country for a year between renewals.

To satisfy Republicans, those provisions would come in force only after the federal government implements tough new border controls and a crackdown on employers that hire illegal immigrants. Republicans are demanding 18,000 new Border Patrol agents, 370 miles of additional border fencing and an effective, electronic employee-verification system for the workplace.

…snip…

Since 1965, migrants have needed a sponsor in the United States, meaning that virtually all immigrants have had family members or employers already here. The new proposal would augment that system with a merit-based program that would award points based on education levels, work experience and English proficiency, as well as family ties. Automatic family unifications would remain but would be limited to spouses and children under 21. The adult children and siblings of U.S. residents would probably need other credentials, such as skills and education, to qualify for an immigrant visa. A number of unskilled parents would be allowed in, but that flow would be capped.

Washington Post