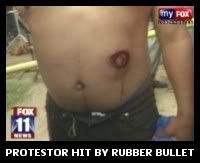 National Immigrant Solidarity Network and Action LA, organizers of the immigrant-rights marches that took place in Los Angeles and various other cities throughout the country, are calling for a full investigation into an incident that occurred in LA's MacArthur Park that marred the day of peaceful protest.

Shortly after 6PM, police in riot gear, armed with batons and guns loaded with no-lethal ammunition entered the park and began firing upon the crowd assembled there in attempts disperse it.

There have been conflicting reports as to what sparked the violence, but numerous news agencies were present at the time and documented the action.

CNN has been showing live video shot from MacArthur Park of riot police using batons and rubber bullets to disperse the large crowd of immigrants-rights marchers. Quite a few very old and young people can bee seen in the fleeing crowd.

The reporters seem to be just as confused as the marchers as to what exactly was going on. One young man was interviewed and revealed a large baseball-sized welt on his stomach where he was hit by one of the rubber bullets.


There are conflicting reports as to what sparked the violence.

LAPD Chief William Bratton in a TV interview claimed "15 officers were hit by missiles that were thrown at them by 'certain elements of the crowd ... who we don't believe were representative' of most of those who were there...While he spoke, a person could be heard declaring, 'That's not true.'"

The LA Times seems to corroborate Bratton's account.

Around 6 p.m., after police tried to disperse a group of demonstrators who had moved off the sidewalk into Alvarado Street, some of the few thousand participants still in the park started throwing plastic bottles and rocks at officers. Then, several dozen riot police, clad in helmets and carrying batons, started clearing the park, firing a few dozen volleys of foam bullets into the crowd.

Several people -- including 15 police officers -- were hurt, but most, if not all, of the injuries appeared to be minor. However, late Tuesday, a staff member from Telemundo's newsroom confirmed that one reporter and three camera operators from the Spanish language TV station had been injured and were taken to a hospital by police. There was also a report that a Fox 11 reporter and camera operator had been injured.

A helicopter flew low over the east side of the park about 6:30 p.m. and sirens blasted as police ordered people out of the park, telling them they would be arrested if they didn't move out.

The police formed a riot line across the park on the east side, forcing the crowd to move west in a big mass. Some of the participants were yelling at police, "You can't do this."

About 6:45 p.m., police ordered the last people out of MacArthur Park, mostly news personnel and some marchers filming the police actions, declaring an "unlawful assembly."

One of those at the scene, Hamid Khan, executive director of the South Asian Network, termed the police action "absolutely an atrocity" and said officers "overreacted." The police action had cut short several speeches, he said, as people left when the confrontation began.

Another confrontation cane around 6:50 p.m., still well before nightfall, when a police car blazing its lights was bombarded by bottles and clothes as it passed. A line of officers fired several volleys of the 37-millimeter to 40-millimeter "less-lethal munitions" -- police parlance for foam or rubber bullets -- from wide-barreled launchers resembling shotguns. People started running, while also throwing things -- from plastic bottles to palm fronds -- at Metro buses. One took a piece of wood and hit a bus.

More police cars streamed north on Rampart and west on Sixth. In Lafayette Park, several police jumped out with batons and tackled some in the crowd, arresting someone in the big pile. They chased reporters away.

LA Times


But there have been other reports that mention different factors, stating that an incident between a motorcycle officer and protesters sparked the police response.


LOS ANGELES, May 1 (UPI) -- A day of peaceful immigration rallies in major U.S. cities Tuesday was marred when Los Angeles police fired rubber bullets to disperse the crowd.
Witnesses said police wearing riot gear and wielding batons gave no warning before firing at rally participants gathered at MacArthur Park, CNN reported. Police said a protester knocked down a motorcycle officer, the news channel said.
UPI


But whatever the cause, the video of the incident clearly shows what appears to be an excessive use of force by the officers.(click to veiw)


National Immigrant Solidarity Network, ActionLA Coalition
Statement on LAPD Brutally Attacks May Day Immigrant Marchers at McArthur Park

Lee Siu Hin
National Coordinator
National Immigrant Solidarity Network
Action LA Coalition

May 1, 2007 10:00 PM PST

National Immigrant Solidarity Network and Action LA is outraged to learn that at about 6:30 PM, May 1, the LAPD fired rubber bullets and tear gas into crowds of hundreds of people at the May Day rally in McArthur Park. This was after the police had declared an unlawful assembly. Most of the people present did not hear or know about the police declaration..

The LAPD failed to act professionally and demonstrate restraint when it used excess force against a peaceful rally of families which included mothers, babies and young children. The LAPD lacked recognition of the consequences of it's actions.

Shame on the LAPD for failing to careful think before using brutal force to attack peaceful marchers.

We are calling community members, civil leaders to Immediately call LAPD chief William Bratton, and LA Mayor Antonio Villaraigosa office, to demand the following:

1) An immediate independent police investigation of the May Day incident at McArthur Park, and demand officers who violated the police guidelines be punished.

2) The immediate and full disclosure from LAPD of any people arrested and detained, we further demand that the LAPD not act as immigrant agents to enforce Federal immigrant law. Due-process of any detainees must be respected.

We encourage anyone if you have information about the May Day McArthur Park incident, please contact us: (213)403-0131 or e-mail: info@immigrantsolidarity.org

We'll issue another detail statement soon and your support is highly appreciated.

Lee Siu Hin
National Coordinator
National Immigrant Solidarity Network
ActionLA Coalition

LAPD Hotline:
Toll Free (1-877-275-5273)
Spanish Line (Español)
213-928-8222

LA Mayor's Office:
213/978-0600

Link



Additional video available Here
and here

Pictures available here:
http://www.nbc4.tv/slideshow/news/13238953/detail.html

http://www.nbcsandiego.com/slideshow/news/13238996/detail.html

alternet link

tags: immigration, LAPD , MacArthur Park, May 1 protest, rubber bullets, riot police