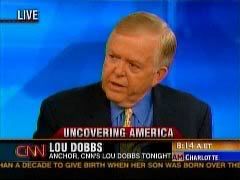 In last election cycle one of things we kept hearing about was the rise of a new demographic, the "Lou Dobbs Democrat." Dems, who for one reason or the other found Lou's mix of protectionism and reactionary populism appealing. Taking up the anti-"illegal" immigrant mantra of the right, our Lou Dobbs Democratic friends like to wrap their enforcement-only positions in the trappings of labor politics. ….they just want to protect American jobs and workers.

Most, if not all, opposed any attempt at forging a comprehensive plan for reforming our failing immigration system, and many in fact favored the strict and punitive legislation introduced by the Nativist Right. Just yesterday they were joining in the chorus of those claiming that the DREAM Act, a bill that would have provided thousands of undocumented kids the chance to earn a legal place in society, was nothing more that another "amnesty" from the far left.

But now today, they must come face to face with reality. Their longtime allies on the right who have opposed any meaningful reform, and instead call for harsher penalties and stricter enforcement, are planning on stabbing them in the back.

The very architect of the most punitive of any immigration legislation passed so far is about to give it one more try.

James Sensenbrenner plans on reintroducing the House bill that started the whole immigration debate almost two years ago. When originally passed, HR4437 caused such controversy that millions took to the streets to oppose it.

Of course at the time, Lou Dobbs and his new Lou Dobbs Democratic allies cheered the bill. It would, they said, restore the rule of law, and secure our borders …and of course protect the jobs of US workers and the middle class.

But now our wayward Democratic friends are about to learn a harsh lesson in reality. Sennsenbrenner has slightly modified the bill in two very import ways:

The first is to readjust the census so that only citizens are counted. This of course will cause redistricting and the loss of Democratic congressional seats in the areas that have heavy legal immigrant populations (legal permanent residents)…and where will those seats be lost for the most part? Blue states of course, the Northeast, California, Illinois, and most important of all, the emerging blue areas of Colorado, Arizona, New Mexico and Nevada.

And what else does Mr Sensenbrenner add to his new bill?....oh yeah, he doubles the number of H1b guestworkers allowed into the country to work in high-skilled jobs.

That's correct…those who have argued all along against guestworkes, and particularly H1B, high-skilled guestworkers, now think that we really do need them ….you know ..to do those jobs US computer programmers and electrical engineers won't do.


Become an Original Cosponsor of the Border Enforcement, Employment Verification, and Illegal Immigration Control Act

Dear Colleague:



In 2005, I introduced H.R. 4437, the Border Protection, Antiterrorism, and Illegal Immigration Control Act. This bill put immigration reform on the national agenda. Although the bill passed the House by a vote of 239-182, the Senate failed to act on it.

My constituents have made clear to me that immigration is a pressing issue. In fact, they recently rated it as the biggest threat to our national security. Although some in the House may have given up on immigration reform, we cannot afford to sweep this problem under the rug. It is in this vein that I again attempt to raise awareness of the serious problem that Americans face.

Next week I will introduce new immigration legislation. My new bill offers real solutions to end illegal immigration by securing our nation's borders and cracking down on employers who hire illegal immigrants. Many of the provisions in the new bill received bipartisan support in the 109th Congress.

The Border Enforcement, Employment Verification, and Illegal Immigration Control Act requires DHS to gain operational control over U.S. borders through the deployment of physical infrastructure, additional surveillance coverage and more effective deployment of personnel. This bill will help restore the integrity of our Nation's borders and re-establish respect for our laws by holding violators accountable, including human traffickers, employers who hire illegal immigrants, and alien gang members who terrorize communities throughout the country.

I believe that the new legislation contains improvements over H.R. 4437. For example, it does not make illegal presence a felony. It authorizes $300 million annually in grants to states and localities for procurement of necessary items to facilitate their assistance in enforcing the immigration laws. It changes the census count to only include U.S. citizens, not those with work visas or "green cards" and those who entered the U.S. illegally, and it doubles the number of H1-B visas for skilled workers from 65,000 to 130,000.

I hope you will join me in sponsoring the Border Enforcement, Employment Verification, and Illegal Immigration Control Act to ensure that we secure our borders and turn off the job magnet that attracts illegal immigrants across the border. Please contact Michael Lenn at michael.lenn@mail.house.gov if you have questions regarding this legislation or wish to add your name as an original cosponsor.



Sincerely,
F. James Sensenbrenner, Jr.
Member of Congress


So to my friends in the Programmer Guild and the IEEE who fought tooth and nail to kill meaningful immigration reform I say …good job there folks.

To our New-Democrat Netroots champions who sided every time with the right on immigration issues claiming they were protecting US workers I say ….way to go.

To our centrist DLC Democratic leadership who see immigration as "the third rail of politics" and don't want to touch it, I say …hope that redistricting works out OK for you

And to all my Lou Dobbs Democrat friends I say …job well done. Perhaps this time when millions of "illegal aliens" pour into the streets to oppose Sensnebrenner's new bill, maybe you'll be there right with them chanting si se puede.