BEFORE




Just to get a little perspective as the spinmeisters and professional punditry weigh-in on last nights historic election in Virginia - let's look at what they were saying Before the results came in:


llegals hot topic at Va. Polls

By Seth McLaughlin and Gary Emerling
November 6, 2007

Voters across Virginia are heading to the polls today to elect all 140 members of the General Assembly and to vote for local lawmakers, including several in Northern Virginia who have been in the forefront of the debate on illegal aliens.

Washington Times
Tomorrow's a Big Test of How the Issue of Immigration Plays

Tomorrow is Election Day. Here in Virginia, 140 state legislative seats are at stake.

Our airwaves have been dominated in recent days with campaign ads. Interestingly, just about all of them mention immigration, and none of them accuse the opponent of being too harsh….

Tomorrow will be an interesting test case on the power of the immigration issue...

If Republicans exceed expectations - and things have looked pretty gloomy for the state GOP in recent cycles - and the issue of illegal immigration is key, you will hear a lot about that issue from coast to coast next year.

National Review
Immigration, Democratic Shift Compete to Steer Va. Elections

Candidates for the Virginia General Assembly entered the final sprint yesterday toward a hard-fought election Tuesday in which two major forces are likely to determine which party controls the Senate: the resurgence of Democrats in vote-rich Northern Virginia, and the Republican advantage in the emotional debate over illegal immigration.

…Republicans have benefited in recent weeks from the growing intensity in the immigration debate. They have promised to block illegal immigrants from obtaining more public services and to do more to start deportation proceedings against them, particularly those who have committed crimes.

…If the election turns on the immigration issue… it could put Democrats under pressure in the coming year to appear responsive on that issue without alienating immigrants, who traditionally have made up an important part of the party's base.

Washington Post
As compared with what they were saying today
After
the Republican's lost control of the Senate and three seats in the House:
AFTER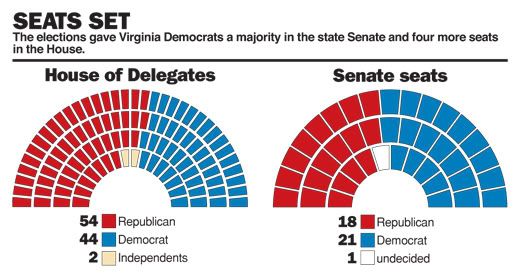 In the Ballot Booths, No Fixation on Immigration

Voters across Virginia chose candidates in state and local elections yesterday not out of anger over illegal immigration but based on party affiliation, a preference for moderation and strong views on such key issues as residential growth and traffic congestion.

With a few notable exceptions, the trend benefited Democrats and not those who campaigned the loudest for tough sanctions against illegal immigrants.

Washington Post
Immigration, Proving Not a Silver Bullet For the GOP

Not a great Election Day for Republicans yesterday. We can argue about how big illegal immigration will play in next year's elections nationwide, but based on yesterday, it seems clear the issue won't be a silver bullet for Republicans.

National Review
Virginia Dems take control

By Seth McLaughlin and Gary Emerling
November 7, 2007

Virginia Democrats last night won control of the state Senate for the first time in a dozen years by taking four seats previously held by Republicans, including two hotly contested races in Northern Virginia.
Washington Times


So much for the wisdom coming out of the Washington pundits in the MSM...not to mention the Republican strategists.

...oh yeah, lets not forget Rahm Emanuel and the boyz over at Jimmy Carville's much quoted Democracy Corps ...I tip my hat to all of you for having your fingers so firmly planted on the pulse of the American public....By the way, did any of you happen to see the newest poll from Newsweek?

You know... the one that says that 93% of registered voters don't think immigration will be an important factor in determining who they will support... for... President... in 2008 ... Jimmy?... Rahm? ... are you still there? ........ Hey where'd Y'all go?