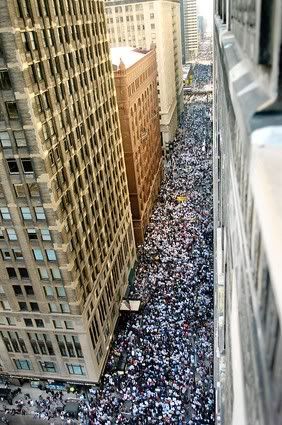 On May 1st 2006, millions took to the streets in cities and communities throughout the nation to finally have their voices heard.

Out from the shadows came the forgotten, the marginalized, the nameless, faceless, mass of humanity who toil daily in thankless jobs with little reward or recognition.

Those who had labored invisibly for years as they quietly provided a nation with prosperity of which they could never partake, took to the streets to say "no more". We will no longer be marginalized … We will no longer be demonized … We will not be criminalized ….We Are America.

That day, as pundits and politicians tried to grasp the seismic shift taking place, attempting to read the tea leaves of public opinion and formulate positions that would serve them politically, two men had the courage to do not what was safe or politically expedient …but rather, what was right.

One was an elder statesman, a lion in winter, who had long fought the great battles of his generation, battles for justice, and battles for equality. ….The other was a young man, just starting his political journey. A young man with a vision of the future based on hopes and dreams for a new America... An America that finally lived up to the principles and precepts on which it was founded. Those two men were Sen. Ted Kennedy and Sen. Barack Obama….The only two sitting Senators to take to the streets in solidarity with those who had too long been invisible.

Three days later Obama had this to say about his participation in the events in Chicago, and his vision for a new America:
On Monday, I traveled from D.C. to Chicago to witness a monumental event. There were 400,000 people marching on behalf of comprehensive immigration reform in this country. There were rallies all across the country but Chicago was one of the largest. I had the opportunity to speak to the people who were gathering at Union Park before they marched over to Grant Park. Four-hundred thousand people, mostly of Mexican origin, but large numbers of people from other countries - Nigerians and Pakistanis and Indians and Filipinos - people who've come to this country for the same reason that immigrants have been drawn to this country for generations: the notion that they can pursue and better life for themselves but, most importantly, for their children, if they work hard and apply themselves.

…I think what we saw in those marches is the face of a new America. America is changing and we can't be threatened by it. We have to understand that we are going to be better off united than divided.

…to those who are fearful of these immigrants, in some cases because they have come to represent a loss of control for the country and its borders, I would just say to them that we can't have a country in which you have a servant class that is picking our lettuce or plucking our chickens or looking after our children or mowing our lawns but who never have the full rights and obligations of citizenship. That's just not the kind of country that I want to have my children grow up in and my hope is that over the coming months we can come up with the kind of comprehensive, thoughtful legislation that I think the Senate bill reflects and we can have strong border security, we can have employers do the right thing by hiring those who are here legally in some fashion, but that we also provide all those families, children, elderly people and teenagers that I saw in that amazing march on Monday the opportunity to be full members of the American community.

Barack Obama on Immigration Marches, May 4, 2006