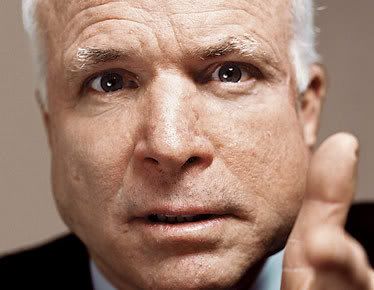 Early on in the Republican nominating process, John McCain raised the ire of much of his party when during a debate he admonished his fellow candidates for their tough stance on the issue of immigration by reminding them that "we're all God's children" and that each immigrant community had added to the vibrancy of American culture.

Yet, while appearing to take the high ground on immigration, McCain has been moving his position further to the right throughout the entire campaign season. As a recent, rather fawning, AP article pointed out; "Once a crusader for offering the nation's roughly 12 million undocumented immigrants a way to get legal status, McCain now says his first priority is fortifying U.S. borders".


Listen to McCain's speeches or look on his campaign web site now, and there's little mention of the fight to give illegal immigrants a way to stay in the U.S. lawfully. He instead emphasizes border security — the catch phrase of conservatives who scorned his earlier proposals.

…McCain told congressional Republicans in a closed-door meeting recently that he had been badly bruised by his push for immigration reform and had learned the hard way that sealing the border should be his priority.

Republicans who support McCain say he has no choice but to abandon his past approach on immigration in favor of one that causes less consternation among conservatives virulently opposed to providing undocumented people with legal status.

"What kind of an idiot can't figure out the route that you took didn't work? You don't keep charging the center line when you're getting your head bashed in, and John was on this," said former Sen. Trent Lott, R- Miss.

AP
But it now appears that Republicans will be putting McCain's new-found conservatism to the test.
Senate Republicans are set to announce today the hardest-hitting package of immigration enforcement measures seen yet -- one that would require jail time for illegal immigrants caught crossing the border, make it harder for them to open bank accounts and compel them to communicate in English when dealing with federal agencies.

Most of the bills stand little chance of being debated in the Democratic-controlled Congress. But the move by some of the Senate's leading Republicans underscores how potent the immigration issue remains, particularly in a presidential election year.

… The package -- an enforcement smorgasbord assembled by at least eight lawmakers -- consists of 11 bills, but it could expand to as many as 14. Some elements echo House bills, but others go beyond House proposals.

One would discourage states from issuing driver's licenses to illegal immigrants by docking 10% of highway funding from states that continue to do so.

Another would extend the presence of the National Guard on the border, and a third would end language assistance at federal agencies and the voting booth for people with limited English ability.

A bill by Sen. Jeff Sessions (R-Ala.), who is leading the effort, would impose a maximum two-year prison sentence on someone caught illegally crossing the border a second time.

…

Other bills in the package would:

* Block federal funding to cities that bar their police from asking about immigration status.

* Give the Department of Homeland Security the authority to use information from the Social Security Administration to target illegal immigrants.

* Require construction of 700 miles of fencing along the southern border, not including vehicle barriers.

* Impose sanctions on countries that refuse to repatriate their citizens.

* Deport any immigrant, legal or illegal, for one drunk-driving conviction.

*Enable local and state police to enforce federal immigration laws.

LA Times 3/5/08

This new legislative initiative puts McCain in a precarious position.

As he moves towards the general election he's looking for support from moderates, independents and most importantly Latinos. But all those groups find McCain's previous position on immigration much more appealing than his new, more conservative, one. With 11 get-tough bills in the Senate, and others in the House, McCain will now be put on the hot seat. Favor, oppose or abstain ... McCain will upset some vital part of his constituency.

At first glance it appears as a no-win situation for the Arizona Senator.

(Sen. Jeff) Sessions said he had not consulted with the White House on the issue, nor had he talked directly with McCain

…Sessions and other opponents of comprehensive immigration reform believe McCain has learned his lesson.

"He has said he got the message and believes the way to go is border enforcement first," Sessions said. "I think he'll be supportive of much of it."

"There's nothing in here that represents an attempt to embarrass him," Sessions was quick to add.

… The package of proposals unveiled by McCain's colleagues may only inflame the immigration debate. Sen. David Vitter (R-La.), for example, has proposed withholding federal law enforcement money for "sanctuary cities" that have lax immigration enforcement. Sen. John Barrasso (R-Wyo.) wants to dock states 10 percent of their highway funding if they give licenses to illegal immigrants. And Sen. James Inhofe (R-Okla.) has a bill that would make English the "national language."

Sessions, who made a name for himself by spending hours at a time on the Senate floor last year, fighting the doomed immigration bill, has proposed mandatory minimum prison sentences for illegal immigrants.

… In the House, Republicans were making a more concerted effort to coordinate their immigration message with McCain.

Some House Republicans were moving ahead full-throttle to force a vote on an immigration enforcement measure offered by Democratic Rep. Heath Shuler of North Carolina. But leaders have temporarily applied the brakes to that effort until they have more time to coordinate with the McCain campaign.

Politico

But McCain might try to use the situation to his political advantage. With such a large smörgåsbord of bills to pick from, McCain can pick and choose. He could choose to accept a few of the less egregious proposals while rejecting others. If played wisely, he could confirm his anti-immigrant bona fides to the right, while being able to still say to moderates and Latinos that he opposed the harshest measures.


Angela Kelley, director of the Immigration Policy Center …. suggested that the Senate bills could provide political protection to Sen. John McCain (R-Ariz.), who has clinched the GOP presidential nomination.

…If McCain endorsed the Senate package, that could "create a platform for McCain to look tough on immigration, create distance from Ted Kennedy [D-Mass.] and erect a shield around the amnesty charge," Kelley said.

LA Times

But it's a very dangerous game:


… Sen. Bob Menendez (D-N.J.), one of only three Hispanic senators, has called on McCain to reject the GOP proposals, saying the package would only create a "wedge" issue come November.

"The Republican Party might think this is a wedge issue for November, but their strategy only dims their chances this year and for generations to come," Menendez said. "Latinos are not a group on the fringes of our society that can be manipulated to score political points. If this presidential primary season has shown us anything, it is that Latinos are no longer the sleeping giant in American politics – they are fully awake, active and making a difference. This is the type of cynical effort that serves to deepen the divisions in our nation that we should be working to bridge."

Politico

I'm not a betting man ….but my money's on McCain throwing "God's children" under the bus ….albeit as quietly and as inconspicuously as possible …and he certainly won't roll back and forth over them as his Republican brethren would wish …but under the wheels they shall be none the less.