After nearly nine months of planning and work, I'd like to announce the opening of a new on-line community for all those interested in humane and practical immigration reform, migrant-rights, human-rights, and the greater struggle of all who those have left friends and family behind to start new lives in new lands.

The Sanctuary is a grassroots effort of a group of pro-migrant, human-rights, and civil-rights bloggers and on-line activists, dedicated to the enactment of meaningful immigration reform that is practical, rational, fair and most of all humane, who have come together to start a new kind of issue-focused digital community that concentrates on analysis, news, and problem solving strategies for one of the most divisive issues facing the nation.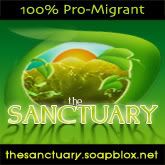 Started to help offset the growing influence of right-wing, anti-immigrant, voices that have thus far dominated the debate, it's mission is to create a broad community of on-line pro-migrant activists, and translate digital activism into real-world, practical action. Additionally, we hope to fill a void in the mainstream progressive blogosphere, by highlighting a growing, ethnically diverse, pro-migrant digital world that has not always found voice in progressive circles.

The Sanctuary is intended to be a "cyber-sanctuary", free from the din of right-wing noise, where those working towards meaningful reform can come together in the hope of magnifying their individual efforts through community action and cooperation, and build bridges with like-minded activists from a wide cross-section of the political spectrum.

By working in cooperation with mainstream organizations and advocacy groups involved in the struggle for immigrant and human rights, we hope to build an issue-focused on-line community that facilitates direct communications and coordination between on-line activists, the new media, and those working daily in Washington, and on the ground to effect change.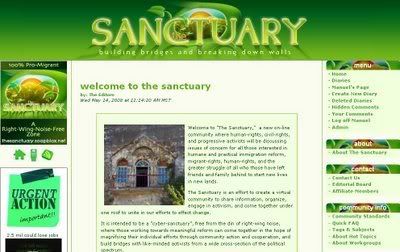 After years of having the debate over immigration reform
controlled by forces
of intolerance and hate, while pro-migrant voices
played defense
in hopes of swaying public discourse, we are about to go on the offense against ignorance and hate – and
The Sanctuary
is just the first step in that offensive.
More on The Sanctuary from some of the founding editors
Announcing the Launch of The Sanctuary
by ManEegee from Latino Politico
Path to the Oasis
by Nezua from The Unapologetic Mexican
The Sanctuary — A New Nexus
by Kai from Zuky
"The Sanctuary" launch!
by KetyE from Cross Left