As hundreds of activists from over 200 different organizations were converging on Washington yesterday in an unprecedented campaign to push for immigration reform, Senate Majority Leader Harry Reid (D-Nev) announced his intent to pass comprehensive immigration reform this year.

Reid, at a press conference with Latino leaders to discuss Supreme Court nominee Sonia Sotomajor, announced a renewed commitment to making reform a top priority.


Senate Majority Leader Harry Reid on Thursday issued the most direct call yet by a Congressional leader for action this year on comprehensive immigration reform.

"As far as I'm concerned, we have three major issues we have to do this year if at all possible: No. 1 is health care; No. 2 is energy, global warming; and No. 3 is immigration reform," Reid said after a meeting with Hispanic leaders.

Reid ruled out a gradual approach to overhauling the immigration system. And he said comprehensive reform should happen this year.

"I'm not going to deal with immigration on a piecemeal basis; it's comprehensive reform," Reid said.

Any legislation that comes to the Senate floor, Reid said, must address border security, expand the guest worker program so it addresses "more than agriculture," include a pathway to legalization for illegal immigrants and include stronger penalties for companies that employ illegal workers.

Roll Call
While it's good to know that Reid intends to make good on the Democrat's campaign promise to address the issue sooner rather than later, it's hard to believe that he thinks that dredging up the same old failed policies of the past will mollify those gathered in DC this week to work for real change in a failed system.
Deaf to both the political realities on the ground, and human costs of failed enforcement policies and exploitive guest worker programs, Reid's new vision for "comprehensive reform" is no different from that pushed in the past by Bush or McCain/Kennedy.
He offers up nothing new, instead Reid falls back on the familiar triad of enforcement first, more guest worker programs, and legalization with conditions like stiff fines and English acquisition.
The leader suggested that if undocumented residents pass a series of requirements, they should be allowed to stay in the country without threat of arrest but must wait for citizenship consideration behind current applicants who have not immigrated illegally.

"I believe that what you need to do is have penalties and fines. I think they have to learn English, stay out of trouble, pay their taxes and then they don't go to the head of the line, they go to the back of the line," Reid said.
The Hill
As always, the devil will be in the details when the legislation begins to emerge from committee, but if Reid's vision is the starting point from which this process will proceed, nothing has been learned from the failed efforts of the past.
Change is not more militarization of the border
Change is not more detention in prisons for profit
Change is not more families separated
Change is not more exploitive guest worker programs
Change is not more penalties and fines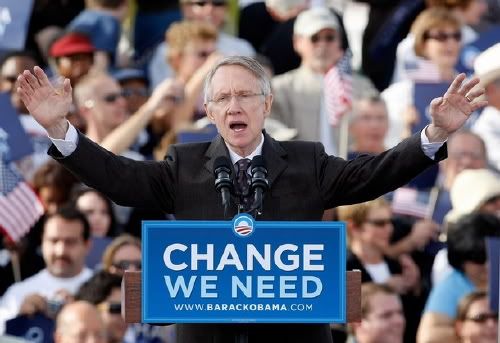 If those in Congress and the Administration believe they can simply repackage the same old policies wrapped in a pretty blue "sí se puede" wrapper, and sell them to a
public that wants real solutions to real problems
, I fear they're in for a rude awakening.
And if those charged with speaking for the immigrant community believe, as they have in the past, that they must accept crumbs left on the table, they too will find that change has past them by.
There is a growing movement demanding real change, and those working towards that goal will lead the way. Those stuck in the past, tied to failed ideas, fearful of rocking a sinking boat will ultimately be left behind.