On Wednesday in a party line vote of 59 to 39, Senate Republicans passed an amendment to trim $1.9 billion from President Bush's emergency spending request for the Iraq war and Katrina relief. According to the amendment sponsored by Judd Gray (R-NH) the funds would be used in increase border security.

The money would be used by the Border Patrol and Coast Guard for new airplanes, helicopters, patrol boats, communications equipment and vehicles as well as border checkpoints and a fence along the Mexico border crossing near San Diego. The legislation also includes money to replace the U.S. border protection agency's only unmanned surveillance aircraft, which crashed Tuesday in Arizona.


tags: immigration, Comprehensive Immigration Reform Act of 2006, funding Iraq, Frist, S. 2454





"This bill is about national defense, especially relative to terrorism," said Senator Judd Gregg, the New Hampshire Republican who is the amendment's lead sponsor. "And, yes, fighting the war in Iraq is critical to this war on terrorism. Fighting the war in Afghanistan is critical to this war on terrorism. But I have to think equally important is making sure that our borders are secure."

New York Times


"The purpose of this amendment is to basically give the people who are defending us on our borders -- the border security agents, the Customs agents, the Coast Guard -- the tools they need to their job right," added Gregg, "We can bring the border under control and we're on a path to do that."

Bloomberg


The move was in sharp contrast to the Republican's usual strong support for the Presidents funding efforts for the Iraq War, which in the past they have been adamant about giving the highest priority to. Three Republicans voted against the shift in money, seven Democrats voted for it and two Democrats did not vote.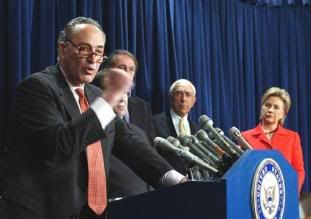 In a reversal of roles, the Democrats quickly questioned the wisdom of the cuts, claiming that the Republicans were shortchanging the war effort for quick political gain. Hillary Clinton (D-NY) called the cuts "a false, cheap choice to secure political points" and that Gregg's cuts would "take money from troop pay, body armor and even the joint improvised explosive device defeat fund. Now that is a false choice and it is a wrong choice."



``Border security is an urgent need and it should and must be addressed by this Congress,'' said Senator Hillary Clinton, a Democrat from New York. ``But our security and our values are not served by choosing between protecting our troops and protecting our homeland.''

A Democratic alternative proposal, which would have made paid for the border security equipment without cutting defense programs, was rejected on a 54-44 vote.

Bloomberg


This change in Republican tactics comes as Majority Leader Bill Frist (R-TN) tries to unite his party behind the pending immigration reform legislation that is at present stalled in the Senate.

As the poll numbers continue to show, the vast majority of Americans now favor an immigration policy that allows for some sort of "earned citizenship" or "amnesty".

It appears that Frist is starting to have to come to grips with this fact and this border spending amendment appears to be part of an effort to garner favor with the "enforcement only" wing of the party.

With their eyes towards November, this move to add 1.9 million to the already 9 million budget for the border is an attempt to provide some political cover for the right-wingers. It appears now that it will be impossible stop comprehensive reform in the Senate, so this is a bone thrown to them to take home to their constituents and say they have implemented "tough new border security measures."

It would seem that the Republican leadership are willing to put themselves in the position where Clinton, Schumer and Harry Reid can accuse them of "shortchanging the troops, and the war effort" in order to put the immigration issue behind them. Having brought this issue to the forefront in an effort to created a distraction to take voters minds off their general disenchantment with Republican policies, it appears the "immigration issue" has now backfired and blown up in their faces.

At this point they would rather go home and defend their cutting of military spending for the mess in Iraq rather than go home empty handed from the immigration table.