Last Sunday, Lou Dobbs appeared on 60 minutes for an in-depth interview with Leslie Stahl, were he finally admitted that he believes the government could track down and deport millions of undocumented immigrants if it only made the commitment to do so.

But more importantly, after years of playing extremely loose with facts and figures in order to make his case, Dobbs was finally caught in one of his big fat lies in front of a national audience.

Both Media Matters and Dave Neiwert at Ornicus have done excellent jobs of dissecting the story, so I'll just cover the basic facts here and refer readers to those two stories to get more in-depth information.

It all started with the following exchange:


Following a report on illegal immigrants carrying diseases into the U.S., one of the correspondents on his show, Christine Romans, told Dobbs that there have been 7,000 cases of leprosy in the U.S. in the past three years.

60 Minutes checked that and found a report issued by the U.S. Department of Health and Human Services, saying that 7,000 is the number of leprosy cases over the last 30 years, not the past three. The report also says that nobody knows how many of those cases involve illegal immigrants.

"We went to try and check that number, 7,000. We can't…," Stahl says.

"Well, I can tell you this. If we reported it, it's a fact," Dobbs replies.

"You can't tell me that. You did report it," Stahl says.

"I just did," Dobbs says.

"How can you guarantee that to me?" Stahl asks.

Says Dobbs, "Because I'm the managing editor. And that's the way we do business. We don't make up numbers, Lesley."

link

So it came as no surprise that the following day, Dobbs took time out of his nightly hate-fest to answer 60 minutes charges. He reiterated numerous times that despite the obvious discrepancy between his figures and those of the U.S. Department of Health and Human Services - he never "makes up numbers":


video lnk

So there it was for all his loyal viewers to see. According to Dobbs, a doctor writing in a medical journal had reported those statistics, so obviously 60 min (and the US Dept of Health and Human Services) were wrong….case closed …if he reports it, it's a fact.

But as Media Matters and Ornicus report, it's not quite so cut and dry.

Madeleine Cosman does in fact hold a doctorate degree… but it's in English and comparative literature. …Dobbs' minion, Christine Romans, neglected to mention that when she descibed Cosman as a " a respected medical lawyer and medical historian writing in the "Journal of American Physicians and Surgeons".

So exactly where did this doctor of English literature get her hard medical data?
From medical studies or research? … of course not. She got her figures from a story gleaned from the New York Times.

But there was just one problem with Cosman's excellent research work. Dobbs' expert academic source had managed to actually misquote the Times in her article in the Journal of American Physicians and Surgeons, skewing the numbers to make her case.

According to Cosman:

Leprosy, Hansen's disease, was so rare in America that in 40 years only 900 people were afflicted. Suddenly, in the past three years America has more than 7,000 cases of leprosy. Leprosy now is endemic to northeastern states because illegal aliens and other immigrants brought leprosy from India, Brazil, the Caribbean, and Mexico.

Illegal Aliens and American Medicine, Dr Madeline Cosman, Journal of American Physicians and Surgeons, Spring 2005

A quick check of Dr. Cosman's footnotes reveals her source was a New York Times Article from February 2003 that actually said something quite different.


While there were some 900 recorded cases in the United States 40 years ago, today more than 7,000 people have leprosy, or Hansen's disease, as it is now called.
New York Times, Leprosy, a Synonym for a Stigma, Returns, Feb 18, 2003 ( alternate link to cited article)

There's no mention of "the last three years" in the original article. It says there were 900 cases 40 years ago not "900 cases in 40 years". It also said that in the following 40 years that number had increases to 7000 cases, not "more than 7000 in the last three years."

But then again if Dobbs reports it –it's a fact.

(To see the complete 60 minutes segment on leprosy and Dobb's reaction - see this great video from Media Matters)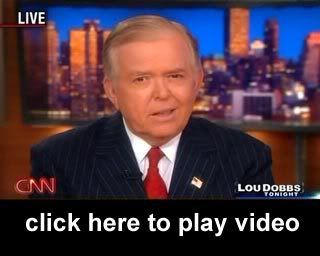 The question now raised seems to be - beside the fact that she supplied numbers that he liked and that made his case - why would Dobbs ever want to stake his reputation on the faulty scholarship of Dr Cosman?

Because, like many of Dobbs' guest experts - she' s clearly a NUTJOB:


video link


video link


video link

Oh Yeah, I remember why Dobbs would rely on Dr Cosman's research ….

Because once Dobbs reports it -it becomes fact



Related
Truth, Fiction and Lou Dobbs, New York Times, May 30,2007